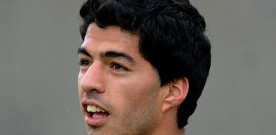 Liverpool striker Luis Suarez has hinted that he wishes to leave the Reds in a press conference while on international duty with Uruguay.
The striker has a history of biting, but this time it seems he is biting the hand that feeds him.
Support
The striker has caused heaps of controversy in his career so far in England. Throughout his controversial Liverpool, the club have stuck by their star striker. Many clubs may have disowned Suarez by now.
Not Liverpool though, the club and supporters backed Suarez to the hilt and it looks like they will be repaid by the striker leaving for pastures new.
Media
Suarez has blamed the English media for him seemingly wanting to leave Anfield. Suarez told a press conference that the media just want to talk about things other than his football ability. Luis that is your own fault. If you do not behave like a crazy person, you are not labelled as one.
If you behaved like a normal person then the media would be talking about your undoubted ability with a football. Unfortunately, you cannot behave yourself on a football pitch, so they tend to focus on that aspect of your life.
Speculation
A move to Spain with Real Madrid has been rumoured for a long time and Spanish sports paper Marca believe that Los Blancos are interested in signing Suarez this summer. Suarez has already stated that he believes La Liga and the Premier League are the two biggest leagues in the world.
I think that Real Madrid is probably his only viable destination this summer. His recent statements point to him trying to force a move away from Liverpool, but the Reds have come out with a statement saying the Uruguayan is not for sale.
Whether Luis Suarez stays at Liverpool or not remains to be seen. One thing that is for sure is that he would definitely add some bite to the Real Madrid attack (sorry bad pun).
Will Luis Suarez stay at Liverpool this summer?
Share
About Author
(0) Readers Comments