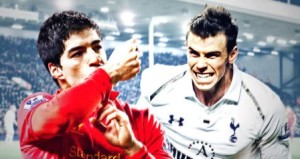 A new derby between Liverpool FC and Tottenham was celebrate at red´s arena. The spurs walked away from Anfield with empty hands after Steven Gerrard scored the penalty shot 8 minutes before the game end.
The first goal came via Suarez with an amazing play made by Coutinho, who is coming to be the middle man Liverpool was needed. However was capable to reverse the situation thanks to the Belgium defender Jan Vertonghen who scored 2 goals at minute 45 (fh) and minute 53.
With the 2-1 against them, the reds, with an incredible fan support, where able to manage to a well-played game, an turn it around again with a goal by Stewart Downing who took advantage of the Goalkeeper´s error at minute 66, and was Steven Gerrard who gave the win with a nice penalty shot at minute 82.
The spurs remain in the 3rd place with 54 pts with only 2 ahead of Chelsea. In the other hand the reds went up to the 6th place with 45 points.
Luis Suarez extended his lead at the top of the Barclays Premier League leading goalscorers table with his strike against Tottenham Hotspur.
The Uruguayan now has 29 goals in all competitions – with 22 of those coming in the league.
It means he has extended his advantage over Manchester United's Robin van Persie, who has 19 in the top flight this season.
Share
About Author
(0) Readers Comments