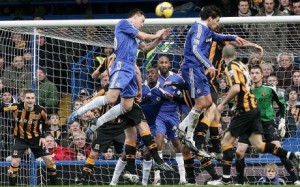 Two matches were played today in the English Premier League with no surprises taking place. In the first match we had an encounter between two London sides, Crystal Palace against Tottenham. Tottenham were clear favorites as they are an established Premier League team pushing for a Champions League spot whilst Crystal Palace is a newly promoted side. Tottenham managed to grab the three points but win a narrow 1-0 win. The sole goal was scored from new signing, Roberto Soldado, from the penalty spot in the 50th minute.
In the other match Chelsea faced newly promoted side Hull City. This match marked the return of Jose Mourinho to Chelsea and the English Premier League. His side was considered as clear favorites to win this match and they maintained the expectations with a 2-0 win. The match started on a good note for Chelsea as they were awarded a penalty in the 6th minute following a bad outing by Hull's keeper. McGregor made up for his mistake as he saved Frank Lampard's penalty. It didn't take much longer for Chelsea to take the lead as they scored in the 13th minute through Oscar. They doubled the lead in the 25th minute thanks to a Frank Lampard free kick.
Tomorrow the last match of the first day of the Premier League will be played as Manchester City will face Newcastle United.
Share
About Author
(0) Readers Comments