Walter Mazzarri is the new coach of Inter Milan. The news has been rumored in the previous days, and has offficially been confirmed yesterday evening by the pres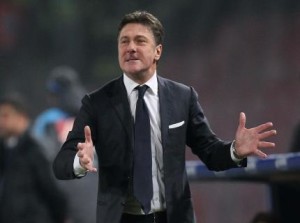 ident Moratti. Stramaccioni concludes this year in Inter Milan. The agreement with Mazzarri will last till 2015.
Moratti has explained the reasons that made him decide to exonerate Stramaccioni. He claimed that Stramaccioni is a young coach, with great possibilities and that could perform in an excellent way in a team without the big difficulties of Inter Milan. His team is passing through a period of crisis, with numerous injuries that will characterize also the future season, and for these reasons the president has decided to have as coach Mazzarri, who has experience and the possibility to reorganize Inter Milan despite the current problems.
The arrival of Mazzarri implies that Inter Milan must be active in the transfer market to get important players. While the goalkeeper is already decided, and also the defense has a stable configuration, the midfield and the attack are the most problematic parts. In fact, in the midfield it is probable a completely new organization, with the use of Kovacic and Guarin or Alvarez that could be lined up as Hamsik in Napoli.
The attack is the most difficult part to organize: Milito will remain out for an indefinite period of time, Icardi will arrive during this summer, but he has not experience in Inter Milan, Cassano will probably leave Milan, Rocchi could leave as well. The only fixed point is Palacio, an element that is not enough to manage the attack phase of a big team. Probable the investements of Moratti in this sector.
Share
About Author
(0) Readers Comments