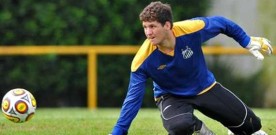 Napoli has concluded one of the best operations of this transfer market: the arrival of the goalkeeper Rafael. The Santos
player is one of the best goalkeepers at international level, and in Italy also Roma was interested in him. The operation should cost Napoli 5 million euros. The negotiation has been difficult because Rafael is an important player, but the prestige of Rafa Benitez has favored Napoli in concluding this operation.
Despite this excellent conclusion, Napoli has still to solve the situation Cavani. For now, the striker is occupied with the Confederations Cup, but after that something about his future will be decided. The only certainty is that his cost remains 63 million euros. Manchester City has offered Edin Dzeko plus a not defined amount of money, but Napoli has refused due to his evaluation of the Bosniac player. Napoli is discussing with Real Madrid the transfer of Callejon, player asked by Benitez. This one could regard a negotiation between Real Madrid and Napoli. Callejon should cost around 10 million euros and Perez could ask a discount to get Cavani to De Laurentiis. Also Alvaro Morata is a player considered interesting by Benitez, a player that could be inserted as well in the negotiation Cavani. Chelsea, the first club that made an offering, trying to insert Fernando Torres in the negotiation, but Napoli prefers Ramires, midifielder that could be easily inserted in the strategies of the new Napoli coach.
For now Napoli has found a good option to substitute De Sanctis, Rafael indeed is a young and motivated player, but with experience. The strikers for the future season have not been defined yet, but there will be many money involved.
Share
About Author
(0) Readers Comments