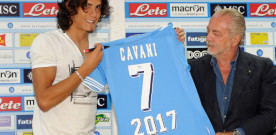 In the last days, Napoli supporters have expressed their opinion about the Cavani case. The Uruguayan player indeed, actually
involved with Confederations Cup, has declared his passion for Real Madrid and Chelsea, two teams that are interested in getting the player. At this point, the supporters have invited Cavani to leave Napoli as soon as possible, because they do not want to root for a player not happy to play for them. Moreover, the supporters are worried because in case of Cavani's departure, Napoli has to find a substitute.
Also the president of Napoli, De Laurentiis, is losing his patience, because Cavani is a fundamental player, but he does not want to remain without a striker during next season. The deadline is fixed for the 10th of August and it presumes that Real Madrid or Chelsea will prepare an offering of 63 million euros for that day. Differently, Cavani will remain in Napoli. However, De Laurentiis has trust in Cavani and is sure that the Uruguayan player will let Napoli know his decision about the future at the end of the Confederations Cup.
De Laurentiis is sure about Cavani's loyalty and thinks that, if the player decides to leave Napoli, he will tell him this decision as soon as possible, to permit Napoli to reorganize before the beginning of next season.
Share
About Author
(0) Readers Comments