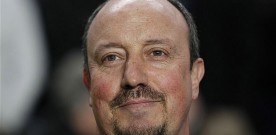 Mazzarri has almost signed a contract with Inter Milan and for Napoli is arrived the moment to d
ecide about the new coach. The president De Laurentiis is working on this project, that will influence also the transfer market and the decisions for next season.
Rafa Benitez seems the most probable coach of the future Napoli. The contacts between Napoli and his attorney have already started and Benitez is interested in an experience in Italy, with an important Club as Napoli, that next year will play also in Champions League.
The official announce will arrive in the following days, but starting from now it is possible to think about the possible developments of Napoli. Benitez could authorize the exchange Cavani-Dzeko, permitting the Uruguayan player to leave Napoli being substitute by an excellent striker. The problem is that Cavani is also desired by Real Madrid, and Ancelotti has esplicitely asked him. Another option to substitute Cavani is Leandro Damiao, not considered by Mazzarri, but positively evaluated by Benitez.
New name associated to Napoli is Fernando Torres. It's rumored in the last hours, that Benitez has accepted to become the coach of Napoli and has already asked for El Nino to substitute Cavani, ready to leave after the departure of Mazzarri.
Share
About Author
(0) Readers Comments