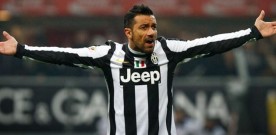 Differently from the previous sessions of transfer market, in which Juventus tended to conlclude
the most important agreements between June and July, this year the situation results more complex. The top player search indeed implies time and money and the availability of an important striker to go to play in Italy.
Currently, Juventus is working on transfer operations to get money and to sell player not useful to Antonio Conte. Considered the arrival of Ogbonna, almost for sure, Juventus needs to reduce the number of defenders: one between Isla and Lichtsteiner will leave the Club. More probable the departure of Isla asked by Inter Milan, even if the transfer of Lichtsteiner could give Juventus more money. The other defender that needs to be sold is De Ceglie, appreciated by Torino and Stoke City and probably ready to leave during this month.
The attack creates more problem to Juventus: Llorente will arrive with the beginning of July and the Club has too many strikers to manage. To leave space to the top player, Tevez, Higuain or Jovetic, someone has to change team. Juventus is waiting for an offering around 12 million euros to let Quagliarella leave Juventus. Matri and Giovinco are considered unmarketable, despite the limited space reserved to Matri during this season. Strange news is the possible departure of Mirko Vucinic, that could be sacrificed to get enough money to invest in another top player.
Share
About Author
(0) Readers Comments