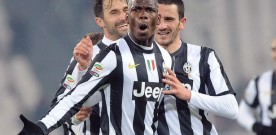 Juventus has to deal with a long period of choices, difficulties and sacrifices to build the new at
tack phase of the team. In fact, to become competitive also in Europe, Juventus needs a top player in the attack. For this reason, Juventus can decide to transfer Mirko Vucinic, the only striker of the team with features of a top player and that could attract international Clubs. He could be transferred due to his age, and because he can become the exchange element to get someone else. Vucinic could be substituted by a younger player, such as Jovetic, currently the first aim of Juventus.
Stevan Jovetic will leave Fiorentina for circa 30 million euros, and for now Juventus does not have enough money. The option 15 million euros and a player in addition could be an alternative, but only if Montella appreciates this sacrificed player.
Another one that could be sacrificed, despite the guarantees of last week, is Paul Pogba. The French midfielder, after his excellent season, is ready to play as regular player, and numerous Clubs could pay an high amount to get him. The gain from Pogba could be used to reach Antonio Conte's dream: the Argentinian Higuain, that wants to leave Madrid, but that has to be paid considerably to his current team.
Share
About Author
(0) Readers Comments