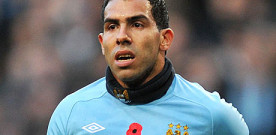 The operations to get the top striker continue for Juventus. Higuain seemed ready to sign a contract, but something has delayed this possibility. Probably h
is cost, or the arrival in Madrid of the new coach Ancelotti that could insert him in his project.
Juventus is proceeding in analyzing the wide possibilities of strikers that want more space or that want to have a new experience. And here, it emerges the name Carlos Tevez. The Argentinian player has not assured his place as regular player next season, and this is not admissible for a player that wants to be the protagonist of his national team at the Brazilian World Cup in 2014. Tevez needs to be highlighted during next season in Manchester City to be called to play in the Argentinian national team. Juventus arrives in the perfect moment, offering Tevez the possibility to play as regular striker in the following seasons. The proposal is about 3 or 4 years of contract for an amount of 5-6 million euros per year plus bonus. This option appears interesting for Tevez that, trough his attorney, has confirmed Juventus the possibility of this transfer.
Always more active the road to Jovetic. Fiorentina and Juventus seem that have found an agreement, and the same applies for Juventus and the player. His contract should last till 2018, with a wage of 4,5 million euros per year. Possible that Juventus will pay Fiorentina with the transfer of some players: Marrone and one between Quagliarella and Matri could become the turning point of this agreement.
Share
About Author
(0) Readers Comments