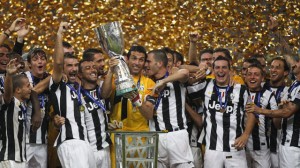 The Italian football season has officially started today with the first trophy of the season, the Super Cup, being played for today between Juventus and Napoli. The Super Cup is played by the sides that won the Serie A and Coppa Italia the previous season. As in previous years this year's Super Cup was played in China too. Unfortunately the weather was favorable as it was constantly raining but the match was still very entertaining.
Juventus started the match very strongly, enjoying most of the ball possession whilst Napoli were operating on the counter attack. Although Juventus created most chances in one of the few counterattacks Napoli managed to create Edinson Cavani found himself alone in front of Buffon and found the back of the net in the 27th minute. The Urugayan was very lucky to score as initially Buffon had touched the ball away but from the continuation of the action a weak shot of Cavani went into the net as Buffon slipped. Juventus make the score level only 10 minutes later thanks to a beautiful goal by new signing Asamoah. Goran Pandev put Napoli back in the driving seat as he made the most out of a Leonardo Bonucci mistake.
Juventus started the second half with Vucinic upfront as he replaced an underperforming Matri. He immediately made an impact on the match thanks to his technique and dribbling skills. He also hit the upright and missed a great opportunity after dribbling past Napoli's goalkeeper. In the 74th minute Vucinic earned Juventus a penalty as he was fouled by Napoli defender. Vidal drew the match for Juventus from the spot kick. Napoli became nervous and in the 85th minute they had Pandev sent off for being rude with the linesman. Being a man down wasn't enough for Napoli as in the extra time of the 90 minutes Zuniga also got sent off for a second yellow card offence. Napoli coach, Mazzari, also got sent off for his behavior.
The match ended level and went into extra time. Juventus didn't take long to close the match in extra time as they score twice, first in the 97th minute thanks to a Maggio auto goal then in minute 102 thanks to a cool finish by Mirko Vucinic. Napoli were so disappointed with the loss that they didn't attend the medal ceremony, the first time ever to happen.
Share
About Author
(0) Readers Comments