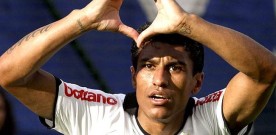 After the arrival of Mazzarri in Inter Milan, it seems that during this week-end the managers of t
he Club have started working on the primary aims of the new coach. Isla, Nainggolan, Basta and Gomes are the elements that could improve the opportunities of Inter Milan. In addition to these four that are the basic players of the future Inter Milan, there are some other occasions.
The first is Paulinho, desired by Inter Milan in almost all the transfer market sessions of the recent years. Roma is the direct enemy in getting the Brazilian player, but Inter Milan is already dreaming a midfied with Paulinho and Nainggolan, two players with high quality.
It is clear that if there are two arrivals in the midfield, one midfielder should leave. The prime suspect is Fredy Guarin. The Colombian player has repeated in several situations that he wants to remain in Inter Milan, but Moratti does not have high regard for him. Two clubs are ready to get Guarin: Tottenham and Anzhi, even if a player with his quality could attract some clubs more.
Differently, the future of Handanovic, at least for next season, seems in Milan. Victor Valdes will remain another year in Barcelona, and for this reason the Spanish club does not cry for him. Handanovic's attorney has declared yesterday that his client will remain in Inter Milan.
Share
About Author
(0) Readers Comments