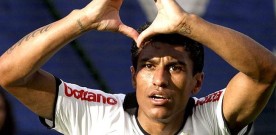 The name of Paulinho is a dream for Inter Milan, that in the past has tried to gain the Brazilian midfielder. Today, in the new Inter Milan that is being reorganized by Mr Mazzarri, Paulin
ho returns a desired name. The midfielder could be used to reinforce a midfield that needs some improvements. The biggest problem is that Corinthias has fixed a price that results too high for Inter Milan, together with the fact that Paulinho is the objective also of PSG and Chelsea, two clubs that do not have the same economic problems of Inter Milan. The will of the player is near Inter Milan, but Moratti should increase his offering to get him.
The other objective of Inter Milan is Radja Nainggolan, desired by all the Italian Clubs of the highest part of the league table. AC Milan and Roma are working to find an agreement with Cagliari, and it seems that Roma has now an advantage on the others.
As back Inter Milan is interested in Dusan Basta of Udinese, operation that seems more possible than the arrival of Nainggolan. Basta could arrive in Milan with Mauricio Isla, considered marketable by his current team.
The road to Zuniga is a bit difficult, because Napoli has evaluated him 15 million euros and considered his recent performances, this amount is too high. However, Napoli has not offered him to prolong the contract and this could represent and excellent sign that will drive Zuniga to Inter Milan.
Share
About Author
(0) Readers Comments