Palermo has been relegated in Serie B and needs a coach with motivation and enthusiasm that co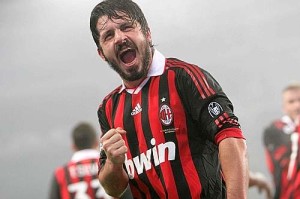 uld lead him in Serie A, after just a season. Zamparini, the president, has thought that Gattuso could be the perfect coach for his team. Currently, Gattuso is a player of Sion, in Switzerland, after an experience as coach of the same team, but his future could be far away from the Swiss Club.
The player is now 35 years old and he could decide to change his approach to football becoming definitely coach. Some important coaches now, Montella and Conte for instance, have started their career coaching teams that had troubles, becoming later on the coaches of the strongest team in Italy. Gattuso could be the perfect man and the perfect coach for a team as Palermo, that needs a motivated leader able to awake the desire of victory and positive results in the players that will remain.
It is true that Gattuso has almost no experience as a coach, but he has been coached by Ancelotti and Lippi, two of the best coaches of the football world. As a player, he has always shown competence and loyalty to his team, learning from his mistakes and assuming the role of captain in several occasions.
Gattuso has all the abilities to become a perfect coach and Palermo could be an excellent starting point for a man like him, motivated in every situation and with the aim of victory at any cost.
Share
About Author
(0) Readers Comments