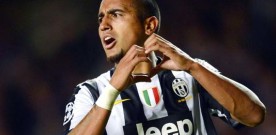 Yesterday afternoon, Juventus has finally won Scudetto, during the match against Palermo.
Conte and his players are now celebrating this important victory, and the president of the Club is already concentrated on the transfer market of this summer.
Conte in fact asked him a top player, that could be decisive not only in Italy, but also on the European stage. Numerous players have been associated to Juventus, such as Alexis Sanchez or Luis Suarez, but nothing has been defined yet.
However, despite the rumors about the transfer market, Juventus seems already having an excellent top player: the Chilean Arturo Vidal. This last one, indeed, is the top scorer of Juventus, the decisive man that permitted to win Scudetto. He scored 10 goals, 7 realized thanks to an action, and 3 as penalties. It is true, in fact, that Vidal has overpassed his colleagues becoming the official scorer of Juventus in case of penalties. The real strikers as Vucinic and Quagliarella have scored 9 and 8 goals.
Vidal is at the center of the transfer market because this season has attracted on him numerous interests from foreign Clubs, able to pay an huge amount to Juventus. But considered his performance and his numerous goals, is it convenient for Juventus to transfer him to get a new player?
Share
About Author
(0) Readers Comments