AC Milan-Torino is the decisive match for Champions League, especially after th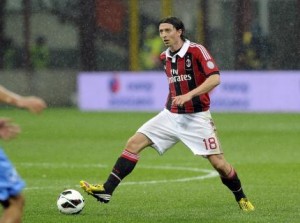 e defeat of Fiorentina yesterday evening. The match has a fundamental importance for both the teams: AC Milan wants the victory to be admitted to the preliminary phase of Champions League, while Torino needs the victory to remain in Serie A. Torino, in fact, in the last matches is gaining only bad results, risking to be relegated in Serie B.
AC Milan arrives to this match without Riccardo Montolivo, that due to a muscular injury, won't play for the remaining rounds of this season. Mr Allegri won't change the organization in the midfield, substituting Montolivo with Muntari, together with Flamini and Nocerino. Zapata will return available after the suspension of last week. Problems also for Stephan El Shaarawy that is not at the best of his physical conditions. The player will start the match on the bench, subsituted by Robinho, but it is probable that he will be employed during the second half.
Torino will count on Cerci, Barreto, Bianchi and Santana. The remaining part of the team is still not sure due to the numerous suspensions and injuries. It seems that the coach Ventura will organize and aggressive team, trying to get the best result possible.
Share
About Author
(0) Readers Comments