One of the managers of Roma has made a declaration during a recent press conference that has sh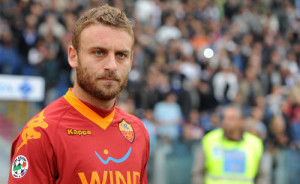 ocked all the supporters: Daniele De Rossi is officially on sale. The player, that was considered the future of Roma, is now one element that can be used to gain money. There could be numerous clubs interesting in getting a midfielder with quality and technique as him.
Differently, Francesco Totti has been confirmed as Roma player. The captain indeed will probably play one or two years more and his football career will end for sure in Roma.
In the meanwhile, Roma is already thinking about the players that could arrive with the money gained from the transfer of De Rossi. Nainggolan remains the first objective, a young midfielder that can be lined up in several situations. Borriello, Roma player in the past, could return in Roma, even if he has attracted the interest of other teams as well.
Another arrival in Roma will be for sure the goalkeeper. After the departure of Stekelenburg in fact, the team is remained without a regular goalkeeper. Julio Cesar seems being the first aim, even if also Rafael is considered as important alternative.
De Rossi is not the only player that could leave Roma. Also Marquinhos is desired by PSG and Barcelona; the defender could be another transfer that could help Roma to solve his economic problems.
Share
About Author
(0) Readers Comments