The Italian national midfielder Daniele De Rossi celebrates his 300 presences as Roma player on Sunday. Roma, after the match against Parma,  is organizing a celebration at "Olimpico" stadium to thank him for his professional performance .
However, it seems that De Ro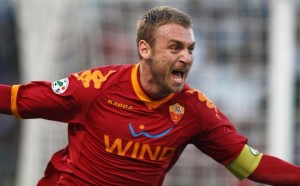 ssi is not happy with his current situation in Rome. During Zeman's coaching, he always remained on the bench, the new coach Andreazzoli declared that De Rossi is a key figure for his Roma, but this is not the perfect moment for him to play, due to his long absence.
Currently, De Rossi is the most paid player of Italian football and some foreign Clubs are continuing showing their interest in him. In fact, Real Madrid and PSG could pay a high amount for him, even if the offering will result considerably lower compared to the proposals in last summer. Of course his absence and his consequent physical condition have changed the market price. The option of De Rossi far away from Rome is not impossible, but highly reccomended to solve the economic situation. In fact, the Club is passing through a period of economic crisis, difficult to solve considered  also the global crisis of Italian football.
All the transfer market operations of Roma have the aim to solve the economic problems: also Osvaldo is going to leave Rome for the team able to pay more, probably a Russian Club, even if he would like to return back to Espanyol.
Share
About Author
(0) Readers Comments