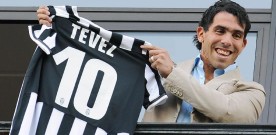 Yesterday evening the news became official: Carlos Tevez is a Juventus player. The Argentinian stri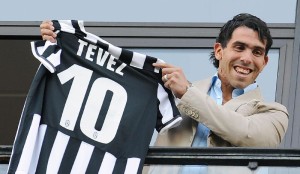 ker has signed a contract till the 30th June 2016 and will receive 5,5 million euros per year plus bonus.
Manchester City, from this operation, gains 9 million euros plus other 6 in case Juventus will win Champions League, Scudetto or a part of them in case of qualification for important phases of Champions League. This negotiation seems a real deal for both Juventus and Manchester City. The Italian team indeed has the possibility to become more competitive and to play at higher levels than before. Differently, in Manchester, Tevez did not have an important role as in the past, and the money gained could be used to get a younger player.
All the members of Juventus' staff and the supporters are happy for the positive conclusion of the operation. Tevez will receive the number 10, a number with an historical value for Juventus, because in the previous seasons 10 was the number of Alessandro Del Piero.
Tevez, just arrived in Turin, has expressed his happiness for being there and has declared that he is arrived in Juventus because this team wanted him more than AC Milan. Currently the player is occupied with the medical examinations, but in the afternoon it is planned the press conference at Juventus Stadium, where Tevez will be officially presented to his supporters.
Share
About Author
(0) Readers Comments