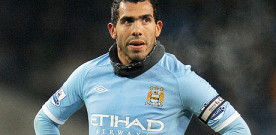 June 2013 and January 2012: the situation is the same. AC Milan is working to get Carlos Tevez from Manchester Cit
y. In January 2012 everything was established, when other requests from Manchester City did not permit the conclusion of this operation.
Now, AC Milan wants Tevez and Tevez wants AC Milan. The first problem is that Pellegrini, the new coach of Manchester City, has not decided about the future of the Argentinian striker yet. Tevez could be decisive or could be an element to sell to get money. Galliani has a good relationship with the player's attorney and during these days they are working to evaluate the costs and the real possibilities of this transfer.
The wage of the player is not a problem because Tevez to arrive in AC Milan seems ready to see his 8,5 million euros per year reduced to 4,5 million euros per year. It seems a positive moment for AC Milan and it is also rumored that the conclusion of this operation is not linked to the transfer of El Shaarawy.
El Shaarawy indeed is one of the most desired players of this transfer market session, but AC Milan wants to have him also during next season, because the player has a great potential to show in his current team. To get enough money to conclude the agreeement for Tevez, AC Milan wants to reduce the number of his players: Robinho, Taiwo, Didac Vilà, Nocerino, Traorè and Emanuelson are ready to be sacrificed to get "El Apache".
Share
About Author
(0) Readers Comments