Fiorentina, after the exclusion from Champions League, has already started working to get some n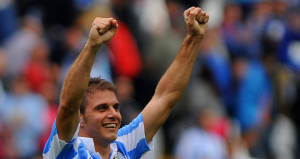 ew players to reinforce his team. Every day, new names are associated with Fiorentina, someone seems ready to leave, and someone else to arrive.
Today the first player associated with Florence is Joaquin Sanchez Rodriguez, currently player in Malaga, that seems have already found an agreement with Fiorentina. The midfielder has considerable experience in his role and also on the European stage, where he played with Valencia and Betis Sevilla. Joaquin wants to leave Malaga and has clearly expressed his opinion. In fact, after the departure of the sheiks as managers of Malaga, the economic crisis has been felt by the players. His cost has been fixed around 2o million euros, but Fiorentina is ready to make an offering of 3,5 million euros, because his contract is going to end.
The other name comes from Turkey. It emerged the possible interest of Fiorentina in Burak Yilmaz, striker of Galatasaray and of the Turkish national team. Fiorentina has already made an offering of 15 million euros for him, but Galatasaray asks 27 million. It is possible that this amount will be reduced, because for now it is an impossible investment for Fiorentina. Money could arrive from the transfer of Jovetic, desire of Juventus and declared marketable by Della Valle.
Share
About Author
(0) Readers Comments