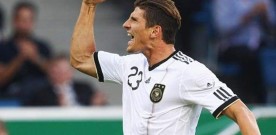 Napoli has found an agreement with PSG for Cavani's transfer. This permits Napoli to earn 64 million euros, an amount t
hat De Laurentiis wants to invest to get important players. It lacks the agreement between PSG and the player himself, but Leonardo in the following days will solve this detail.
64 million euros permit De Laurentiis to think about top players for his Napoli and, considered the departure of the Uruguayan striker, an excellent substitute is the first aim. This new objective seems to be Mario Gomez, Bayern Munich player that wants to change team due to his relegation of the bench in several situations during last season. The problem is that the German player had already found an agreement with Fiorentina, that has difficulties in negotiating with Bayern Munich. At this point, Napoli, with much more money available, could overpass Fiorentina and get the striker.
Gomez is considerably appreciated by Rafa Benitez that has identified him as his first choice. Other interesting alternatives are Edin Dzeko and Leandro Damiao, even if Benitez is sure that Gomez is the best choice possible at this moment. Bayern Munich asks 20 million euros for his striker, an amount easily reachable by Napoli.
Napoli indeed is going to make an excellent transfer market, finding at first the substitute of El Matador, and than investing money in a goalkeeper, other important aspect for the team. Julio Cesar could be a perfect solution for Napoli, due to his previous long experience in Serie A.
Share
About Author
(0) Readers Comments