The excellent season just concluded permits Fiorentina to think about a great session of transfer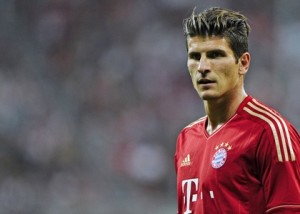 market. In fact, thanks to the objective reached, the qualification to Europa League, Fiorentina has money and the desire to invest in important players. Moreover, the possible departure of Jovetic forces the Club to look for a striker to substitute him.
The option Mario Gomez appeared last week, and it seems that the two Clubs and the player are working to find an agreement. The German player indeed has not found enough space during his last period in Bayern Munich and wants to play as regular next season, to have the possibility to show his abilities before the 2014 World Cup. Gomez wants to play in the Germany national team in Brazil, and this is possible only if the player shows regularity and the right way of game on the field. Fiorentina could be the perfect alternative.
The main problem regards the economic question: Gomez is a top player and his cost is high. The fundamental step before establishing an agreement with him is the departure of Jovetic. This last one has expressed in several situations his desire to leave Fiorentina and the Club does not want to hold someone who is not interesting in playing in Florence. The Club is waiting for the offering from Juventus, to use a part of the money to invest in Gomez, the dream of all Fiorentina supporters.
Share
About Author
(0) Readers Comments