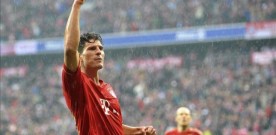 Stevan Jovetic, according to the recent rumors, is going to become during next week a player of Juventus. It seems that Fiorentina and Juventus have found an agreem
ent and also with the player. At this point, Fiorentina has to find an excellent striker to substitute Jovetic, one of the men that have led Fiorentina in Europa League this year.
This striker could be Mario Gomez, currently Bayern Munich. Gomez this year has often remained on the bench to leave space to his teammate Mandzukic, with better physical condition than him. Bayern Munich has found a new organization without Gomez, that has become not important as was in the past. This could be an advantage for Fiorentina, that coudl et the player for around 15 million euros, an amount possible to pay after the departure of Jovetic.
Other two alternatives to substitute Jovetic are Burak Yilmaz and Negredo. The first one, currently striker in the Turkish Club Galatasaray, could leave for an higher amount. His cost should be around 20 million euros and the Club has already declared that he will sell the player to who will pay more. Also the cost of Negredo, now Betis Sevilla, will result around 20 million euros, as a consequence of his last good season.
Mario Gomez seems the most probable new arrival, considered his cost, but before making this decision, Fiorentina has to find an agreement with the player, to discuss his wage and the duration of the contract.
Share
About Author
(0) Readers Comments