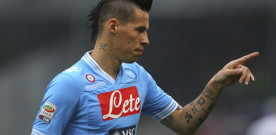 Napoli has gained the result that was desired at the beginning of the season: the qualification for Champions League. At the end of this season, the situation o
f the team will be reconsidered starting from the coach, till the top players.
Mazzarri, probably on Sunday, will explain something about his future. It is still a doubt which team will be his final destination.
Cavani, the most discussed player of Napoli, is desired by Manchester City, Real Madrid and PSG. His future is not yet defined, but it is probable his departure from Napoli. Cavani, in facts, seems interested in an international experience, after the years as leader of Napoli, and playing in an important team as Real Madrid seems his aim for the future.
After this fact, it seems that Hamsik will ask an icrease in his wage. In case of Cavani's departure, Hamsik will become the best player of the team, and he will ask to be paid as such.
Also Cannavaro and Maggio at the end of this season could ask an increase of their wage to remain in Napoli. They are the columns of Napoli, but to remain for the future seasons they are going to ask some money more.
Share
About Author
(0) Readers Comments