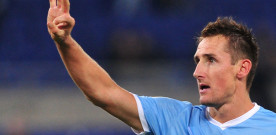 Lazio has just concluded a positive season, that finished with the victory of Coppa Italia and the qualification to Europa League. To improve his position next season, Lazio is worki
ng to get new players. Felipe Anderson and Perea are already been acquired by Lazio, but now his managers are looking for a new striker and a back.
Miroslav Klose remains the column also for next season, but as visible during this Serie A, when the German striker can't play, Lazio has big problems. As a consequence, Lazio is looking for a player that could be used to support and to substitute Klose.
An interesting option could be Tim Matavz, striker of PSV Eindhoven. The player is young, but has a great average of goals scored both in Eredivisie and in Europa League. He has also experience in the Slovenian national team, for which he has scored 2 important goals for the qualification to the 2014 World Cup.
The alternative is Caballero, Paraguayan striker, currently playing in Russia. This player could be a good option for Lazio because he has the Spanish passport and has a reduced cost. Other alternatives, not still well analyzed, are: Stracqualursi, Salim Cissè and Andred Finnbogason.
As back, Lazio is looking for a young player, but with enough experience to play in Europe and in Serie A. Josip Elez seems a possible arrival, even if his current team asks too much money. Other two options could be Hysaj and Caceres, even if the first seems a better alternative, due to his status of European player.
Lazio, for next season, wants to increase his possibilities, firstly in Serie A. The arrival of a new striker and some new young player could be decisive.
Share
About Author
(0) Readers Comments