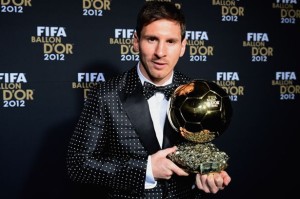 Barcelona superstar Lionel Messi beat off competition from the likes of Cristiano Ronaldo and Andres Iniesta to collect his fourth consecutive Ballon d-Or award last night.
The Argentinian skipper scored 91 goals in 2012 to eclipse the record previously held by Germany and Bayern Munich legend Gerd Muller.
Outstanding
Lionel Messi has been simply outstanding in 2012, but then again the diminutive attacker has been outstanding for most of his career. He wasn't just outstanding for his goals; he also created a large number of goals for his teammates.
Debate
With Messi claiming this award the debate about whether he is the greatest footballer of all time will once again grind into action. The likes of Pele and Diego Maradona have long been considered the best players the game has ever produced.
Pele scored over a thousand goals in his career, but he did spend the vast majority of that club career at Santos, where the standard of football was no doubt poorer than the European leagues. The Brazilian did win three World Cups though and was part of great Brazilian teams.
Diego Maradona won the World Cup with Argentina in 1986 and his performance at the tournament is still regarded as one of the best seen by an individual on the world stage. Most fans acknowledge that if it wasn't for Maradona Argentina wouldn't have won the World Cup.
That's not even mentioning his club career, which involved the little attacker inspiring little Napoli to two Scudetto's during the 1980's and a UEFA Cup triumph.
Close
Lionel Messi has won a host of trophies with Barcelona and continues to do so. However it's on the international stage that the little man from Rosario has disappointed. His performances at international level haven't been of the same standard as for club.
In football terms Messi is still young though. At just 25 years of age Messi could still play on for over a decade. Maybe then we will be closer to knowing whether or not he can be considered the greatest player to ever play the game. For now though let's just enjoy his fantastic performances.
Is Lionel Messi now the greatest ever footballer?
Share
About Author
(0) Readers Comments