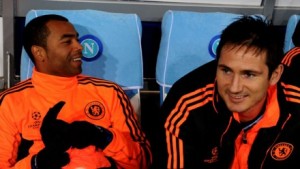 Chelsea pair Ashley Cole and Frank Lampard could leave the Blues next summer. The duo are in the last years of their contracts and seem to be struggling to find an agreement to stay with Chelsea.
There are even suggestions that Chelsea owner Roman Abramovich is only prepared to give the England internationals one year extensions.
Rumours
The transfer rumour mill has got Ashley Cole heavily linked with French nouvre-riche outfit PSG. PSG boss Carlo Ancelotti, was of course Cole's boss at Stamford Bridge and rates the 31 year-old very highly. In fact the Italian described him as 'the best left-back in the world'.
Frank Lampard has fallen out of favour at Stamford Bridge recently, mainly because of the arrivals of the likes of Oscar and Eden Hazard. Blues boss Roberto Di Matteo has insisted that Lampard has a future with the Blues, but it's looking less and less likely by the day that he will sign a contract extension.
Lampard has been linked with a move to the MLS. I think it's very unlikely that Lampard will remain in England if he doesn't sign a new contract with the Blues. A move to America would be a good lifestyle choice for the veteran midfielder.
Quality
I have to admit that I still believe that both Lampard and Cole are still quality players and should be given contract extensions at Chelsea. I agree with Ancelotti that Cole is one of the best left-backs in the world, if not the best.
The England international would be a big loss to the Blues and he would be hard to replace, despite the emergence of youngster Ryan Bertrand. Lampard also still has a lot to offer the Chelsea cause. He can still score vital goals, but it seems he will have to adapt his game to stay at Stamford Bridge.
Likely
Although I don't think it would be in Chelsea's best interests for the pair to leave I think it's very likely that they will depart next summer. The Chelsea dressing room and team will be worse off without them.
Could Chelsea pair leave Stamford Bridge next summer?
Share
About Author
(0) Readers Comments