2013 has started in an excellent way for AC Milan: in Serie A it has gained 9 victories, 3 draws and no defeats. This perio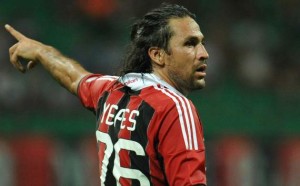 d can be considered the "Golden age" for AC Milan, considered the disastruous situation at the beginning of this championship.Thanks to the arrival of Mario Balotelli, the attack is performing in a magnificent way, giving AC Milan the possibility to reach the second place.
However, the most important news of this 2013 is that also the defense is playing in a perfect way: just 6 goals have been scored by AC Milan's enemies in the last 12 matches, and what's more is that in the last four matches Lazio, Genoa, Palermo and Chievo did not score any goal to AC Milan.
The effort to organize a new and solid defense has been fulfilled by Mr Allegri, that during this season has changed several times the defenders, due to numerous uncertainties and bad performances. All the team has been involved in the defensive phase, in fact Niang and El Shaarawy are often visible while defending AC Milan penalty area. Another improvement is the arrival of Mario Balotelli that helps considerably the team in case of corners or difficult actions, where the physical strenght is required.
Next week-end AC Milan will play against Fiorentina, one of the most dreadful teams in kick corners and the victory is fundamental for both the teams, for this reason AC Milan has to line up the perfect defense together with its excellent attack.
Share
About Author
(0) Readers Comments