AC Milan is having an excellent trend in 2013: 27 points and no defeats in Serie A, an incredible result,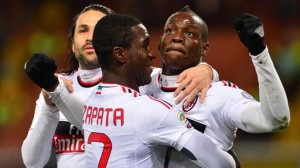 if one considers how the season began. Starting from January, AC Milan has won 8 matches and gained 3 draws, a balance that, if Serie A had started in January and not in August, AC Milan would have resulted first in the league table, followed by Napoli, with 5 points less, and Juventus, 6 points less.
An excellent 2013 for Mr Allegri and his team. Comparing AC Milan to other foreign teams, it emerges that AC Milan has made a great effort. For example, Barcelona has totalized less points than AC Milan, and also 2 defeats.; Manchester United gained the same results of AC Milan. The only European team that made better is Bayern Munich: all the 9 matches played in Bundesliga have been won by Heynckes' team.
It is possible to affirm that Mr Allegri did a great job, despite the initial tragedy. The improvement can be linked to the arrival of Mario Balotelli, author of 7 goals in 6 matches, but also to the establishment of a more secure defense. In fact, Christian Zapata has now more experience of Italian football and results more at ease with his role.
However, starting from now, AC Milan's course will be more complex: the direct matches against Fiorentina, Juventus and Napoli are getting close.
Share
About Author
(0) Readers Comments