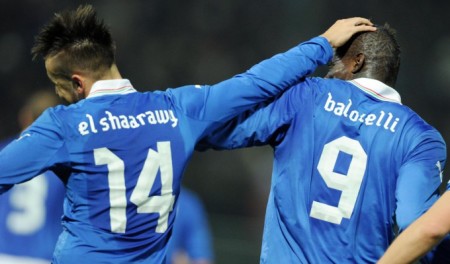 SuperMario Balotelli has just arrived in Serie A, but the results are really incredible: 7 goals in 6 matches. Only Andriy Shevchenko, during the season 1999-2000, did the same. The other big players, such as
Ibrahimovic, Weah or Bierhoff, despite their great performances, did not have emulated these data.
After the arrival of Balotelli in Milan, the Club has not been defeated yet: 5 victories and 2 draws make AC Milan the best team in the last month and a half. AC Milan supporters love him, he is now the beneficiary of the majority of their chants in San Siro.
It seems that the presence of Balotelli is fundamental for the results of AC Milan: except for the match against Lazio, each match played by SuperMario has been positive for his team. His absence in Camp Nou, together with Pazzini's injury, cost AC Milan the elimination from Champions League.
It's rumored a dissatisfaction of El Shaarawy, that lost his position of hero after the arrival of the ex-Manchester City champion. However, during an interview after the match against Palermo, Balotelli described his good relationship with the Pharaoh, declaring that they are the perfect couple not only for AC Milan's attack, but also for the Italian national team.
Share
About Author
(0) Readers Comments