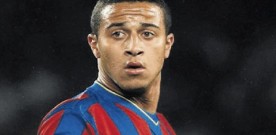 Thanks to the confirmation of Mr Allegri, AC Milan has started working on the transfer market, to prepare a competitive team before mid-August. The managers are continuing with their policy o
f young and motivated players, but they are aware that a team is competititive and solid not only with new forces, but also with experienced elements.
This is the main reason for which Galliani is starting having contacts with Barcelona, a team with experienced player, and with some of them interested in changing their team to have more space or to have a new experience.
An element could be Fabregas, that, according to the recent transfer rumors, is ready to leave Barcelona. AC Milan could decide to make an offering for him, but for now his cost is too high: 28 million euros are impossible to pay for an Italian team. In addition, Fabregas has just declared that his dream is to remain in Barcelona, a different statement compared to the work of his attorney.
The second element is Thiago Alcantara, young player with international experience. Also in this case his cost could be a problem for AC Milan. 20 million euros are too much, but the desire of the player could become decisive in this situation. In fact, after the arrival of Neymar, Thiago Alcantara could see his possibility to play reduced in Barcelona, while in AC Milan he could have more chances to show all his abilities.
Also for AC Milan it is developing a link with Spain to get a top-player for next season.
Share
About Author
(0) Readers Comments