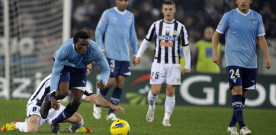 At the bottom of the league table everything has been decided during the last round
. It is confirmed the relegation in Serie B of Siena and Palermo, together with Pescara, while Torino and Genoa remain in Serie A thanks to the draws gained yesterday against Chievo and Inter Milan.
Juventus has already celebrated his Scudetto, the first won after the departure of the historical captain Alessandro Del Piero. Also Napoli is sure about his position, after a suffered victory against Siena. More interesting for this last team the transfer market: both Mazzarri and Cavani are ready to leave Naples.
AC Milan, Fiorentina, Lazio and Udinese remain the only four teams that have still an objective to reach. AC Milan, after the 0-0 against Roma, has to win against Siena to maintain the third place. Fiorentina, on his hand, is waiting for a mistake of AC Milan to play the preliminary phase of Champions League, even if also Europe League is an interesting competition for Montella's team. Udinese and Lazio indeed are still playing to be qualified in Europe League, a challenge that will determine the final winner only next week-end.
The last 90 minutes of 2012-2013 Serie A are fundamental just for these four teams that are fighting for an European competition, and the hope is that there won't be planned results, or mistakes made by the referee. It is desiderable indeed an end without polemics and negative memories.
Share
About Author
(0) Readers Comments