The match Roma-Lazio finished 1-1, a match that started in an aggressive way, but in which noone gains the victory. Lazio showed an aggressive nature during the first half, probably also thanks to the new formation lined up by Petkovic, that saw a returned Miroslav Klose, together with Onazi, preferred to Mauri. At 16′ of the first half Hernanes scored the goal, that gave the temporary adv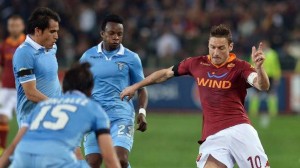 antage to Lazio. Petkovic's team continued playing in a good way, but also Roma showed motivation and desire to win this important match.
The second half started with the referee that assigned a penalty to Lazio, due to a fault committed by Marquinhos. Lazio could have assured his adavantage in this way, but Hernanes failed. After this fact, the teams appeared more nervous, committing numerous fault and making the referee show cards. At 11′ of the second time, Totti realized a penalty, gaining the draw for his team. At this point, Petkovic decided to insert Kozak, to substitute a tired Klose. However, Lazio finished the match in 10, due to the red card shown to Biava.
Roma-Lazio has been an important match, that due to the result, does not change the position of the teams in the league table. It can be considered a success for Lazio that continues his series of positive results against Roma, but it can also be considered a good result for Andreazzoli, that managed his first derby in an excellent way.
Share
About Author
(0) Readers Comments