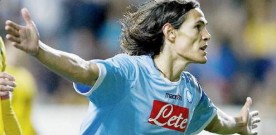 As every summer of the recent years, Italian football is the place from which important players leave. The economic situation d
oes not permit anymore to buy foreign players and the Italian top players tend to leave to England, France and Spain.
This summer is the turn of Premier League Clubs that have as their aims, three of the most important player of Italian football: El Shaarawy, Cavani and Jovetic.
The news about El Shaarawy has appeared this morning: the player is asked by Manchester City for 40 million euros. An incredible amount, that perfectly fits with the features of the player: young, with perfect physical conditions and author of numerous goals this season.
Cavani is not a news: tha player is desired by almost every club. Chelsea has proposed Napoli 50 million euros to get him, but the offering has been refused. The same applies to the offering of last week: 30 million euros plus Fernando Torres. Chelsea seems not interested in changing his aim, as visible by the increased offering.
Stevan Jovetic is ready to leave Fiorentina and this is his desire. While in Italy Juventus is trying to get the money for him, Arsenal and Chelsea could make an offering next week. His cost should be around 30 million euros, an amount that does not create problems to the English Clubs.
Share
About Author
(0) Readers Comments