Rudi Garcia is the new coach of Roma; the information is now official and Rudi Garcia can start working with his new team.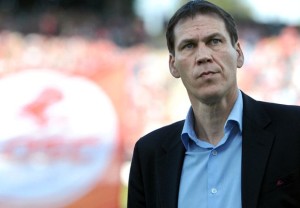 The contract will last 2 years.
Rudi Garcia started his career in France, firstly as player and later on as coach. Despite his young age, 49 years old, Garcia has coached several teams of Ligue 1. His first team has been Saint-Etienne, than he passed in Dijon leading the Club from Ligue 2 to Ligue 1. In 2010 Garcia became the coach of Lille, permitting the Club the victory of the French championship 57 years after the last time. His work has been concentrated on the growth of some young talents: Debuchy, Rami, Cabaye and Hazard, later transferred in important European Clubs.
His organization of the team is similar to the one of Luis Enrique and Zeman in the previous seasons: the 4-3-3, with some differences compared to his predecessors. Rudi Garcia does not represent the coach dreamt by the supporters of Roma, but he could represent an excellent starting point for a glorious future. His ability of managing young players may permit Roma to build a system of new players, important also for the following seasons.
Now the new arrival has to understand the mechanisms of Serie A and to develop a way of game that could fit with the players available, asking the managers of Roma some new elements to reinforce his team. After two negative years, Roma cannot fail also this time.
Share
About Author
(0) Readers Comments