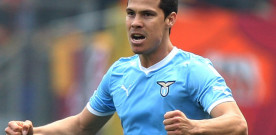 The Brazilian midfielder Hernanes, after an excellent season, seems ready to leave Lazio.
While at the beginning of the transfer market his permanence has been confirmed in several occasions, currently there are rumors about his future far away from Rome.
In the first phase, AC Milan and Juventus expressed their appreciation for the midfielder, without starting real operations with Lazio, probably due to his high cost and to his consideration as unmarketable player. At this point, Real Madrid and PSG have shown in a clear way their interest for Hernanes, that could decide to go to play in one of these, thanks to the possibility to be noticed at international level. Lazio indeed will participate to the preliminary phase of Europa League and it is since a long time that the participation in Champions League remains every season the aim not reached.
PSG seems ready to offer 30 million euros to Lazio to get Hernanes, while Real Madrid does not have a real offering yet. The president of Lazio, Lotito, has underlined that the project of the future Lazio is centered around Hernanes and for this reason the player won't leave the Club. On the other side, some managers are working in Brazil to look for a substitute: Felipe Anderson appears the new Hernanes, thanks to his quality and his physical resistance. 10 million euros have already been offered to Santos and it is probable that before the end of next week Felipe Anderson will be a Lazio player.
Share
About Author
(0) Readers Comments