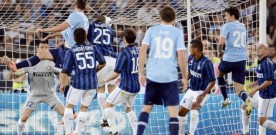 Today, there is the last chance for Stramaccioni to save a terrible season, always worse. The defeat against Napoli last Sunday is the last example of a not well-organized Inter Milan, with a lot of difficulties and numerous absences. The direct match versus Lazio represents one of the last possibilities for Inter Milan to play the preliminary phase of Europe League.
Lazio will be a difficult enemy: the team arrives after a glorious victory against Bologna, with Miroslav Klose at the best of his possibilities, author of 5 goals in a match.The participation to Europe League seems more possible for Lazio, that has a better situation and morale, compared to Inter Milan.
The good news for Mr Stramaccioni is the return of Tommaso Rocchi, that should play with Guarin and Alvarez. The remaining part of the most important players is not available, and Stramaccioni had to call young players to build up his team. The presence of Ranocchia and Chivu is also a doubt, but in this case Cambiasso and Benassi could easily substitute them.
Lazio has almost all the players available, except for Brocchi, Mauri and Ederson. Petkovic will line up Klose and Floccari for sure, hoping in another golden moment for the German striker. The only doubt is the presence of Cana or Dias to play with Biava.
Inter Milan-Lazio will see the challenge of two teams that are living different conditions, whose objective is the same. Would an Inter Milan in crisis be able to defeat an aggressive and prepared Lazio?
Share
About Author
(0) Readers Comments