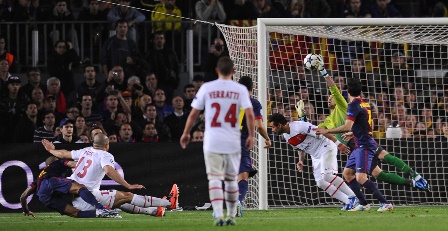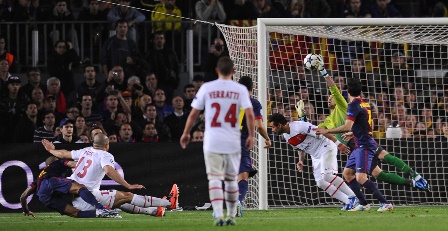 Barcelona at Camp Nou, suffered the absence of the Argentinian player until minute 60th, Messi's appearance in the second half, rallied Barca to tie it 1-1 against Paris Saint Germain, therefore managed to advance to the semifinals of the Champions League.
What earned the Catalans to stay alive in the tournament was to have scored two away goals in the first leg at Parc des Princes.
The game:
Barcelona made took the ball since the first minutes, but not having their star player up front made them suffered under the enemy threat, all they could do was a Xavi freekick shot that went near Sirigu´s goal .
The visiting squad responded and started having their arrivals, the first one was at min 4′ Busquet´s error left the ball to Lavezzi, for it to run alone, but eventually ended up entangled with the ball.
The second clear chance for the visit came in the spoils of the Argentine Lavezzi 24 ', after receiving filtering pass by Ibrahimovic, but the striker could not finish the play, the french goalkeeper stop the ball with his feet.
Lucas Moura, the 21 year old player, showed an amazing performance, it´s definitely a great future world of soccer star.
At the second half, the Paris Saint Germain came out with the same attitude as the first, therefore at the 50th minute a great assist from Ibrahimovic to Pastore was rewarded with the first goal of the game, the Argentine run along and crossed the ball to the net.
Paris remained paying better and causing more danger via Ibrahimovic, who became the engine of his team, five minutes later, the Catalan defensive line intercepted a pass for Lavezzi, which could have ended in the second goal of the visit.
Having no response on the offensive line, Tito Vilanova sent Lionel Messi to the field, his contribution was quickly reflected in the game and Barca´s goal, nine minutes after he got into the game.
The play was started by Messi from outside the box, sent a filtering pass to Villa, who very cleverly assisted Pedro at the edge of the penalty area who unthinkingly sent inside the net.
Share
About Author
(0) Readers Comments