The future of Massimiliano Allegri is always more mysterious and interesting.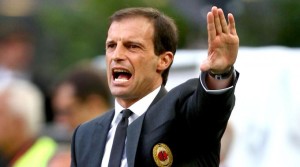 During this week, the president Berlusconi declared that probably Allegri will not remain the coach of AC Milan also in next season. This is the consequence of the not direct qualification to Champions League. At this point, it seemed that Clarence Seedorf was considered by the president the perfect substitute of Mr Allegri.
During several press conferences, the players and Galliani have confirmed their appreciation and their desire to have Allegri also next season.
Today, it has been written that Allegri had signed a contract with Roma from next season and that he has alreay started managing the transfer market of that team. Immediately it arrived the reaction of both AC Milan and Roma that underlined that Allegri is the coach of AC Milan and he will remain also during the following season, at least till 2014, when his contract will end.
The name of Allegri today has been associated also with Inter Milan, and denied by Stramaccioni during the press conference before the match against Napoli.
The last denial arrived by Massimiliano Allegri. He declared that his transfer in Roma is false, and that he wants to respect his contract with AC Milan. Allegri insisted on the fact that wrong information like this could influence the morale of his team, creating a situation of crisis, and making difficult the qualification at the third place.
Share
About Author
(0) Readers Comments