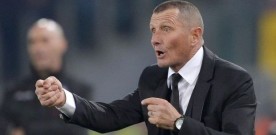 After the results of the last Serie A round, it seemed possible that some presidents have decided to change the coach of their Clubs. Moratti, differently from what it has been predicted, has confirmed that Stramaccioni will remain Inter Milan coach. A difficult choice, considered that Inter Milan has reduced its aims during this year, due to negative performances of the team.
In addition to Moratti's words, some other coaches have signed a new contract with their teams: Allegri, Conte, Maran, Donadoni and Pioli. Compared to the previous season, numerous Clubs have confimed their coaches, except the last four teams of the league table that still do not know for sure about their future.
Roma is the only one team not sure about its coach for the future season. They must decide to confirm Andreazzoli or to change completely. Everything depends on the result that Andreazzoli will gain at the end of this season, that has fixed as aim the qualification in Europe League for next year. In case of not confirmation of Andreazzoli, the Club is interested in Walter Mazzarri and Massimiliano Allegri. Walter Mazzarri has just signed a contract for two years more as Napoli's coach, and De Laurentiis does not want to let him leave. However, it seems that Mazzarri appreciated this interest from Roma and could accept the offering. Massimiliano Allegri is the other option, even if he has just prolonged his contract with AC Milan and seems not interested in leaving his team.
Share
About Author
(0) Readers Comments