It seems that almost the 50% of AC Milan player is ready to change team during this transfer market session. It sh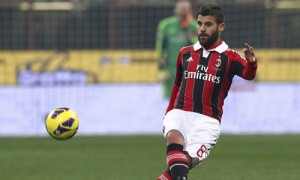 ould be the group of players that are not happy about the confirmation of Mr Allegri or whose contract will end this summer.
Mario Yepes is the first that could leave Milan. The Club does not want to prolong his contract due to his advanced age and has already found alternatives to him. In fact, AC Milan has numerous defenders for next season, that could increase more in case of arrival of Astori from Cagliari.
Bojan Krkic won't be confirmed due to his high cost and his performance this season. 15 million euros are too much for a player often remained on the bench and not decisive when lined up.
Traorè and Didac Villà have not found space in AC Milan this year and are ready to leave to have more possibilities. Traorè could play in Torino next year; there are indeed contacts between the two teams to find an agreement about the midfielder. Nothing is clear about the future of the left back.
Taiwo and Emanuelson, on loan in Dinamo Kiev and Fulham, won't play in AC Milan next season. Their future is linked with another team, interested in transferring them or getting them on loan.
Flamini and Nocerino wants to change, because they do not agree with the management of the team of Allegri. Flamini could go to Inter Milan, where Mazzarri has already expressed the desire to coach him, while Nocerino could become a player of Torino.
The captain Ambrosini has received an interesting offering from West Ham and from American Clubs, but he does not have decided anything. Another  player that could leave is Kevin Prince Boateng, whose price is around 12 million euros.
Share
About Author
(0) Readers Comments