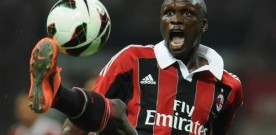 It is planned for this evening the meeting between Allegri and Berlusconi, during which the future of AC Milan will eventually be established. Galliani has explained t
hat next season the players will remain almost the same of this year, even if some new arrival is probable.
The first two arrivals are Andrea Poli and Renato Civelli, whose future has almost been defined. The agreement for Poli has reached an excellent point, and the arrival of Civelli in Milan has been confirmed by the manager of Nice, the current team of the Argentinian defender.
The other players desired by AC Milan are a midfielder and a striker. The option Cerci is perfect, because this player may be used in both the situations, but there are numerous difficulties to get him: Cerci is the aim of Napoli, AC Milan, and other teams, and his position half Torino and half Fiorentina creates further problems. The striker that could arrive is Luca Toni, not anymore part of the project of Fiorentina and with the possibility to substitute Pazzini in an excellent way.
Differently, possible departures are Flamini and Traorè. Flamini has been asked by Inter Milan, and if Allegri remains the coach, his departure is more than probable. Traorè has not found space in AC Milan this year, and Torino needs a midfielder. The French player could be part of the operation to transfer Ogbonna in Milan.
Share
About Author
(0) Readers Comments