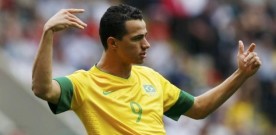 Numerous Italian clubs are interested in Brazilian objectives to reinforce themselves before the beginning of next Serie A. Some of these talents are currently playing the Confederations Cup, attracting the interest of more teams.
Felipe Anderson is the objective of Lazio since January. This last one and Santos are discussing the transfer and the agreement seems found. The problem is that half player belongs to the English fund Doyen Sports and that the economic agreement has not been found between this one and Lazio.
Wallace is a young right back, currently Chelsea player. Roma is interested to getting him, at least on loan. It is probable that Chelsea will permit this operation, to increase the experience of the player in the European football.
Douglas Santos is one of the best players of this Confederations Cup. Inter Milan and Juventus could try to get him, even if, for now, his cost is too high.
Rafael is an excellent goalkeeper. Inter Milan has shown his interest and also Roma, but Napoli has almost concluded the negotiation, offering Santos 5 million euros.
Julio Cesar left Italy last season, but he seems ready to return back. His good performance in Brazil has attracted the interest of Roma, that is looking for a new goalkeeper. The operation could be concluded in a short period.
Jefferson, after his experience in Turkey, is now Botafogo goalkeeper. However, he wants to return in Europe. Numerous the clubs in Italy that appreciate him, but complex to conclude the operation. It is more probable his arrival in Premier League.
Lucas Leiva is currently a Liverpool midfielder. Benitez appreciates him, but due to his cost, Napoli has not made a real offering to get him.
Leandro Damiao in the past was the objective of Napoli. Now the situation is not clear, but his arrival in Europe is probable. If Napoli does not conclude the operation rapidly, Damiao could arrive in Tottenham or Marseille.
Douglas is currently playing in Eredivisie. The defender is young and has a reduced cost. Lazio and Sampdoria are interested in him, but also some English clubs will try to get him.
The last name is the young defender Doria. Juventus has signed a contract with him, but now he is not convinced, because the player is young and without experience. Benfica is ready to overpass Juventus and to get the defender.
Share
About Author
(0) Readers Comments