The last match for AC Milan is starting in less than one hour, the match that decides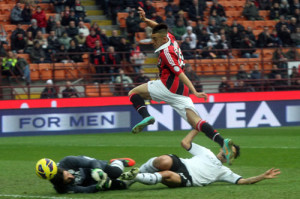 the future of AC Milan and his participation to Champions League or to Europa League. This season has been really complex for AC Milan, considered the troubles of the beginning of the season. Numerous indeed the matches in which Allegri's team has been defeated in the first part of this Serie A. Thanks to the positive results since January AC Milan has now the possibility to be admitted to the preliminary phase of Champions League. The victory against Siena is an obligation to reach this objective.
Differently, Siena has already been relegated in Serie B, despite the positive season. The 6 points of penalization assigned to Iachini's team are the decisive reason for the relegation of Siena, that with these 6 points more could have remained in Serie A.
This one should be the last match for Giuseppe Iachini, that will leave the bench of Siena, after this season. Rosina will play from the first minute, together with Emeghara. These two player represent one of the best couple of strikers of the championship, and it is probable that they will be able to create difficulties to AC Milan.
Siena-AC Milan could be the last match also for Massimiliano Allegri, even if the aim Champions League is more important than his personal future. Surprise of this match is El Shaarawy, that will start the match on the bench, due to technical reasons. The attack will see Balotelli, Robinho and Niang, a strange decision made by Mr Allegri considered the good performances of Pazzini and El Shaarawy during this season and the necessity to win the match.
90 minutes and AC Milan will know if he is admitted within the most important Clubs of Europe also for next season.
Share
About Author
(0) Readers Comments