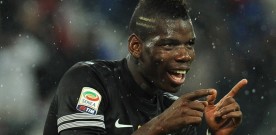 It continues the analysis of the 20 Clubs of this Serie A. Fiorentina, Genoa, Inter Milan, Juventus and Lazio will be evaluated now.
Fiorentina: 7.5/10, excellent season for Fiorentina. Perfect the choice of a young and motivated coach as Montella that has almost succeeded in conducting Fiorentina in Champions League. Europa League is still a great objective, considered the performances of this team in the previous years. Considerable also the transfer market of last summer that brought in Florence players with quality and technique.
Genoa: 5/10, Genoa remains in Serie A, but it has been saved by a miracle during the last two rounds. Considered the big names of the team, such as Borriello, Floro Flores and Immobile, the points gained are embarassing and also the risk of being relegated in Serie B. A terrible season, signal of a team that needs to be completely reorganized.
Inter Milan: 4/10, one of the worst Clubs of this Serie A. At the beginning the aim was winning Scudetto, than the qualification in Champions League, later on in Europa League. Considered the last part of the season, the relegation in Serie B could have been an option for Stramaccioni's team. Of course, it must be remembered that numeorus injuries have limited the possibility of this team, that needs more concentration, motivation and desire to be a group during next season.
Juventus: 8/10, the Scudetto has been easily won by Conte and his players, clearly better organized compared to the remaining teams of Serie A. Pogba is one of the best arrivals of this year, decisive in several situation. Numerous the players that have grown up and have expressed their best: Vidal, Quagliarella, Pirlo, Giaccherini. Now, Juventus has to start winning also on the European stage.
Lazio: 7/10, compared to the initial aims, the final position of Lazio is a tragedy, being excluded from Europe. However, the team has shown that has possibilities for the future. Petkovic has been able to organize the team and to maintain an high level, despite the injuries and the problems. Miroslav Klose is an excellent player and the column of Lazio. Now, they have the possibility to win Coppa Italia.
Share
About Author
(0) Readers Comments