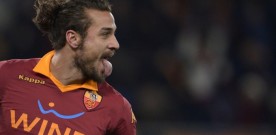 Two goals permitted Juventus to defeat Torino, gaining the victory during the derby, but also increasing his advantage on Napoli. Despite the negative elimination from Champions League, it is probable that during the following round Juv
entus will win the Scudetto.
Napoli has 11 points less Juventus, but the match against Pescara finished with a clear victory of Mazzarri's team, that won thanks to the three goals scored by Inler, Pandev and Dzemaili. Pescara has assured his relagation in Serie B for next season.
Palermo-Inter Milan finished 0-1, due to a perfect goal scored by Josip Ilicic. Inter Milan is missing the opportunity to participate to Europe League next season, but Palermo increased his possibilities to remain in Serie A. Zanetti has been seriously injured during this match, risking to remain out of the field for 6-8 months.
Roma won 4-0 against Siena. In this case, positive the result for Roma that has a real possibility to play in Europe League next year, while Siena, through this defeat, risks the relegation in Serie B. Osvaldo could be considered the leader of this match, author of 3 goals.
AC Milan won against Catania 4-2, maintaining the third place and one point more Fiorentina. The result depended on the perfect performance of Pazzini, together with Balotelli and Flamini.
Other results of this round: Atalanta vs Bologna 1-1, Cagliari vs Udinese 0-1, Chievo vs Genoa 0-1, Parma vs Lazio 0-0, Sampdoria vs Fiorentina 0-3.
Share
About Author
(0) Readers Comments