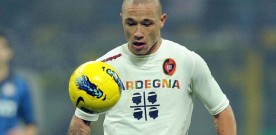 Radja Nainggolan is the most desired player of Italian football. There are numerous clubs interested in transferring him and ready to offer Cagliari a big amount. Til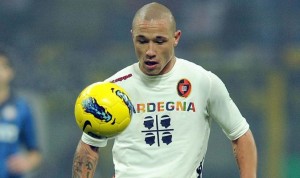 l last week the player was evaluated 15 million euros, but Roma has already offered 20 million euros to get him. However, Cellino has not accepted this offering, because the cost of the Belgian player could further increase. Monaco could offer Cellino an interesting amount and also Inter Milan.
Massimo Moratti indeed is negotiating since a long time with Cellino: the agreement could include the arrival in Cagliari of Bardi and Longo plus a considerable amount of money. Napoli wants Nainggolan as well and has been the first club interested in getting him. In fact, in January De Laurentiis tried to buy Nainggolan, but Cellino at that time was considering him unmarketable. Currently, the president of Napoli could decide to make an excellent offering to Cagliari to avoid the transfer of Nainggolan in Roma or Inter Milan.
The player himself and his attorney seem more interested in the option Roma. They have already found an agreement with this club: a contract of 4 years for around 2 million euros per season. However, also Cagliari has to accept the transfer and Cellino wants to gain as much as possible from this operation.
Share
About Author
(0) Readers Comments