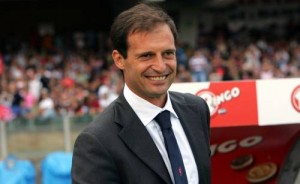 One of Europe's biggest football clubs AC Milan are currently in the midst of what can only be described as a crisis.
With just 13 games gone in the Serie A season the Rossoneri are 12th in the table, 17 points behind champions and league leaders Juventus.
Europe
Their domestic form has been poor and their performance in the Champions League hasn't been much better. The Italian giants visit group C rivals Anderlecht on Wednesday night in the Champions League needing a win.
Should the unthinkable happen and Massimiliano Allegri's team lose then Milan could fall to the bottom of group C. The group is very tight, with Malaga already in the last 16. Milan are second on five points, while Anderlecht have four and Zenit St Petersburg have three.
Any of those three could qualify for the knockout stages. When the group was announced Milan and Zenit were considered the favourites to progress. However, both could now miss out on qualification for the last 16.
Surprise
It really would surprise me if Milan did get knocked out of the competition at the group stage. Despite the wholesale changes to the Rossoneri squad this summer I still believed that this would be a relatively comfortable group for them.
It hasn't worked out like that though. Milan have only won one of their Champions League fixtures, losing one and drawing the other two. It's not what you expect from a club with the history of AC Milan.
Transition
AC Milan are currently in a major transitional stage. They cannot be judged by standards of their past performances. The current AC Milan squad is nowhere near the standard of former squads and it's starting to show.
I believe that it's going to get worse before it gets better for the Rossoneri. I think they will qualify from the group, but probably won't make it much further than the last 16, which in itself is a sad indictment of a once great club.
Will AC Milan qualify for the last 16 of the Champions League?
Share
About Author
(0) Readers Comments