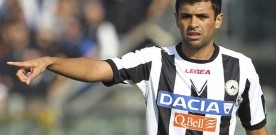 As every year, the best players of Udinese are considered elements to sell after the end of a positive season. Handanovic, Cuadrado and Alexis Sanchez are examples of the policy of Udinese: sell important elements to teams that could pay an high amount. In this way, Udinese is one of the few Italian teams that has a positive economic situation.
At the end of this Serie A, Udinese gained the qualification to Europa League and is now ready to sell someone. Muriel is the desire of numerous teams, but he has been determined as unmarketable. The sames applies to Zielinski, Allan and Pereira. Different the situation of the Serbian right back Dusan Basta, that is ready to go to Inter Milan. Basta has expressed his desire to change team, and in Inter Milan, the new player could become regular. The second name is Medi Benatia, young defender. The Moroccan player is since a long time the desire of Napoli, and the arrival of Benitez could be the decisive engine to get him. However, in the last days, also Roma is trying to get Benatia to reinforce his defense.The third player is Danilo, Brazilian defender, whose next destination could be Fiorentina.
These are the most discussed players of Udinese of this period, but it is probable that, as every year, the team will be rebuilt in his most important roles.
Share
About Author
(0) Readers Comments